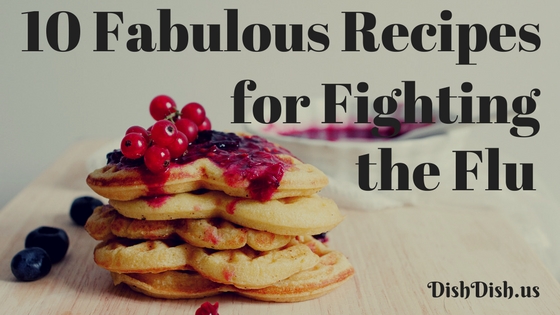 When we are feeling under the weather, fighting the flu or similar cold symptoms, sometimes it's difficult to think about what we should be eating or drinking in order to help our bodies recover and recuperate as quickly as possible. (Above photo background by Yoori Koo on Unsplash)
Making sure we are intentional to consume foods and beverages that will help us in that process, getting us back on our feet more quickly, is a must.
These 10 recipes are sure to help you (or your loved ones) feel better and be back at full speed before you know it.
Fresh Ginger Tea
Ginger is especially helpful when we're struggling with nausea or stomach ill-at-ease when battling the flu.  Simmer some fresh sliced ginger in boiling water and then add a little honey and lime juice, to taste, for a calming, refreshing beverage to sip. (See full recipe at theSpruce).
Chicken Noodle Soup
Sometimes thinking about Grandma's old-fashioned chicken noodle soup makes it seem like a daunting task to whip up a big pot of that for dinner, but it can be as simple as throwing some chicken pieces into chicken broth and simmering, then adding noodles and frozen vegetables with some seasoning and allowing to simmer until all is cooked through.  (See a detailed recipe at Dish Dish).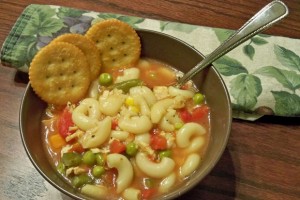 Berry Smoothie
Bananas and berries are really good for us when we have the flu.  They are both full of minerals and antioxidants that our bodies desperately need when we are ill.  Add a scoop of protein powder, if desired, to this Berry Breakfast Smoothie (which is really perfect any time of day) to provide some much needed energy as well.
Egg in Toast (Egg in a Hole, Bird in a Basket, Etc.)
This fantastic, easy and quick dish has been known by many names over the last hundred years or so.  It is a perfect dish for when you have the flu (easy enough to make for yourself even when you're feeling bad) and both comforting as well as good for you.
The protein and vitamins in the eggs help strengthen your body and immune system and the lightly toasted bread is soothing.  Use a little olive oil or butter in a skillet, pull a bit of bread out of the middle of one slice, lay the bread in the skillet and break an egg into the center hole; cook until firm enough to flip over and cook for another couple of minutes 'til heated through.  Then it's ready to eat! (Detailed recipe at NY Times)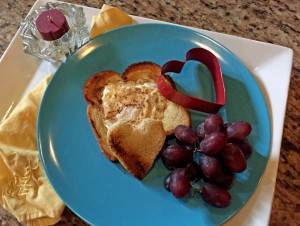 Applesauce
Especially for times when our flu symptoms include upset stomach or nausea, applesauce is one of those comforting foods that is not only good for us but also soothing when we don't feel very well.
While you could definitely just have a friend drop by and bring some applesauce from the grocery store, this easy recipe for applesauce is a simple way to make your own without any extra additives, so it's even healthier for you! You plop the 4 or 5 ingredients (cinnamon optional) into a large pan and simmer for half an hour, then mash together before serving or storing. Enjoy!
Beef Stroganoff
Okay, this might not sound as obvious — right off the bat — as being a dish that is good when we have the flu.  However, the protein, minerals, and zinc especially in the beef are good for helping our bodies fight back.  Serve this Beef Stroganoff recipe with its creamy mushroom sauce and beef over some cooked white rice for a calming, soothing delicious meal that will hit the spot.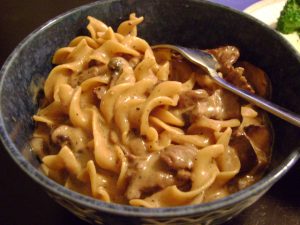 Green Tea and Ginger Dew Pops
Popsicles made with green tea, fresh ginger, and some pureed honeydew melon make a refreshing cool treat that's also very good for our bodies, helping us fight off illness, and they taste amazing, too! Just a few simple ingredients (feel free to substitute another favorite fruit for the melon, if desired) and a few hours in the freezer required to enjoy these delicious popsicles (see popsicles recipe).
Easy 3-Ingredient Banana Pancakes
Bananas are not only soothing, but boosting for our immune systems, and so simple to add to the menu with these easy 3-ingredient Banana Pancakes recipe (which you don't have to serve just for breakfast!) from The Seasoned Mom.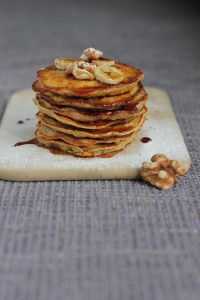 Orange Garlic Chicken with Tomatoes
Chicken thighs in a sauce seasoned with fresh garlic, ginger, orange juice and tomatoes, and served over rice, this Orange Garlic Chicken recipe is so good as well as fairly quick and easy.  Pretty much all of the ingredients have good health benefits and we love the mix of flavors!
Infused Water
Okay, so technically this one isn't a real "recipe" as much as a suggestion to add some healthy boosts to the water we already need to be drinking to stay hydrated when we are fighting off the flu or other illness.  Consider adding some orange juice (1/3 juice to 2/3 water).  Prepare a large pitcher of water in the fridge and toss in sliced oranges and lightly crushed berries (blackberries, raspberries, blueberries) for a deliciously flavored and healthy beverage option.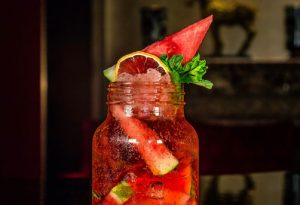 Which recipes will you use to help yourself and your family recover from the flu or a cold more quickly? Let us know your thoughts and suggestions in the comments below; we love when our readers share their input!