Dish Dish welcomes new members with a beautiful free bamboo cutting board shipped free to each member who adds 10 new recipes to their digital online cookbook with us.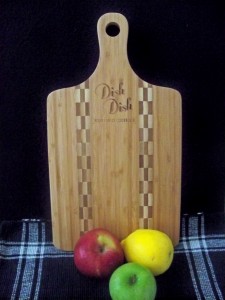 Our eco-friendly bamboo cutting board is a handy size – 8-1/2 inches by 15 inches – including a comfortable handle for easy use.  It is small enough to slide into a drawer easily, but large enough to handle larger cutting and dicing tasks.
The cutting board is easy to clean – simply wash with warm water and mild soap.  Then wipe down the board with some mineral oil once a week or so, to keep the wood in good condition and protect the surface from absorbing food particles.  Mineral oil is safe for using on surfaces where food is prepared.
Bamboo cutting boards are best used for cutting fruits, vegetables, cheeses, and any cooked meats.
Get started today with your free account, enter 10 recipes into your online cookbook with us, and then contact us at contest@dishdish.us to let us know you are ready for your cutting board.
Dish Dish members can digitize their favorite recipes, saving them with photos and notes, edit recipes any time, create shopping lists, and easily share with friends and family (or keep recipes private).
Have fun Dishin' today!