So Many Cookbooks
There are so many great cookbooks out there today, across the web and in bookstores and e-books; the options are bountiful.  Cookbooks for baking, grilling, Italian, Thai, Chinese, BBQ, using a slow cooker, canning, etc. can be found on kitchen shelves across the country.
And then there are cookbooks for certain diet restrictions or particular types of diets like South Beach, Weight Watchers, Paleo, Slim for Life, or cookbooks for diabetics, as well as those needing gluten-free or dairy-free recipes because of allergies and health issues.  Having a large selection of cookbooks is advantageous when looking for a specific type of recipe or simply wanting something out of the ordinary for a change. But how about having an online cookbook, a digital recipe book, where you can find your favorites all in one place?
Which Cookbook?
The problem in the kitchen can be finding in which cookbook that favorite biscuit recipe is located.  Or remembering where that page torn out of a magazine or newspaper was stowed away.  How 'bout that recipe card a friend copied down years ago, or maybe the one a realtor sent in the mail a few months back?  What about those printed recipes that are now page-worn, covered with splatters, and becoming unreadable?  Did you come home from that shower, party, cookie exchange or potluck dinner with recipes to try sometime in the near future?  Which drawer or cabinet did those end up in, or which cookbook are they tucked into?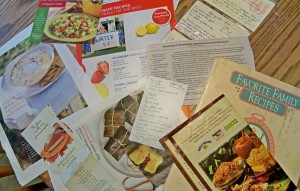 From Cookbook to Digital Recipe Book
My, my … such an assortment of things to track and organize.  What to do?  Well, fortunately Dish Dish makes it easy for you to start your own online cookbooks (by simply adding a recipe after logging in) as a place to organize all those recipes, either family favorites from generations gone by or new ideas to try sometime soon.  Now instead of having 14 (or 40) cookbooks to search through for that terrific stuffed chicken recipe, or a plethora of magazines to explore, it pops up quickly in your online cookbook, ready for you to try or noted just the way you made it last time (since you can edit and make notes each time you open the recipe) complete with pictures from the meal.  Now you can simply save those 4-8 recipes you have bookmarked or earmarked in each cookbook in one place, easy to edit, search, share with your friends (when you have had them over for a terrific meal and they ask for the recipe), add pictures, or even videos (to show grandma or Aunt Jane that the kids helped with the Christmas cookies this year).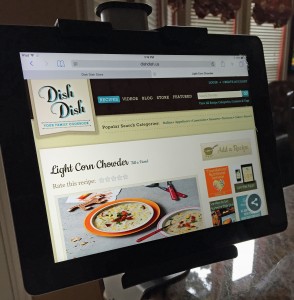 And what if you are on vacation or out shopping with a friend planning an event and would really like to access a specific recipe either to share or check on ingredients or prepare it for your family?  Those cookbooks and recipe cards sitting back home in the kitchen are hardly going to do any good then.  But if the cookbook is online (or saved as a PDF to your tablet or laptop), you can access it quickly with any mobile device and take care of the matter at hand.
As more and more cooks move towards using their laptop or tablet while cooking, Dish Dish becomes an even more appealing option for all those recipes.  Let Dish Dish be your online cookbook and recipe book, where you can gather, access and share your favorite recipes with family and friends anytime (even on the go with our iOS iPhone and iPad recipe organizer app).  Save yourself from the jumbled mess of cookbooks, recipe papers and cards, and get started today!